Interview and Photography by Mallory Turner
Made up of four brothers/ best friends who have been playing music together for fifteen years, ROMES is an Irish/Canadian alt-pop outfit, full of synths and fun party vibes. Since their debut in early 2016, they've toured with Rooney and Mutemath, played at ACL Festival, and have more upcoming tour dates this December with Sheppard.

ROMES is singer Jacob Alexander, drummer Nicolas Amadeus, guitarist James Tebbitt and bassist Andrew Keyes.
I really liked your guys' singles' artwork and how it all ties together, what do you think the importance of visual branding is in today's social media age?
Nick – It's definitely important but with our stuff it's just, it's something that kind of happened naturally. We didn't actually try and necessarily create a certain image, we just started from day one of ROMES with our promo photos; we just started chopping off the tops of our heads in Photoshop, and that's what then translated into the EP artwork and then later all the singles artwork and eventually the album artwork. So it just kind of happened, but almost by like "Hey this could look cool, just kind of decapitate ourselves;" in some early photos and we just kind of ended up rolling with that and it developed into the ROMES artwork image.
You just released your debut album, though the majority of the tracks had already been released as singles - do you think that worked better for you and is going to be more common going forward?
Jacob - I think, it's hard to say if it worked better for us because, I guess we don't know any better, but it's definitely something we were excited about. It was a collaboration between us and the label to decide to do that, and I feel like it's the perfect way to release more content to an audience, especially with Spotify.
Andrew – I do this anyways so maybe I'm just projecting, but when I get an album I kind of skip through it first – just intervals and parts of songs to see if I like it or not, and then I'll go back revisit it. With putting out the single, for someone like me anyway, I actually just listen to the song in its entirety, kind of gives you more of a chance to take in the one song on its own and make your mind up whether you like it or not that way.
Nick – I also think just in the current state of music, people have such short attention spans and I think that's the result of how more accessible music has become for everyone, like with Spotify there's just so much new music coming out all the time. So everyone has such a short attention span so, just kind of keeping a constant stream of music like throughout a year, I think we felt was a lot more effective than just dropping an album and then you got to hit the studio and get busy recording a second album until you have any new music.
You've shot several of your music videos yourself, right? Do any of you have a background in film or how did that come about? 
Jacob – No, we all just… come up with an idea. We've always wanted to shoot our own videos and finally got the chance to do it.
Tell me about the 360 camera you used in the video for "Someone"?
Nick – Yeah, so that was this guy Nicolas Vuignier, he created the concept, he did it with an iPhone called the centriphone, he was a skier and he was skiing the Swiss Alps and he made this device and he was going around with an iPhone doing that. He'd be ripping down ski hills and he's get it from all 360 angles, and it was unbelievable. I saw that video and I was like, that's kind of cool maybe we should try and do a music video like that. So, we just hooked up a Go Pro to a coat hanger and some fishing line and that was it.
Andrew – The very first location we went to, we took turns to spin it and stuff, and we wanted to get this really good shot of Jacob singing and dancing and doing his thing. And Tebbit was spinning and something happened. I didn't actually see it, I just heard James go like "Oh shit.", Jake got up at the wrong time or Tebbitt got too low, something happened and I ended up smacking Jake right in the face, he was bleeding.
Jacob – In the teeth, yeah. Luckily they didn't fall out.
Andrew: It was the very first shot, so we got back into the car and nobody said anything for like 30 minutes. We were like "Should we keep doing it?"
Jacob: I was like I don't like this music video.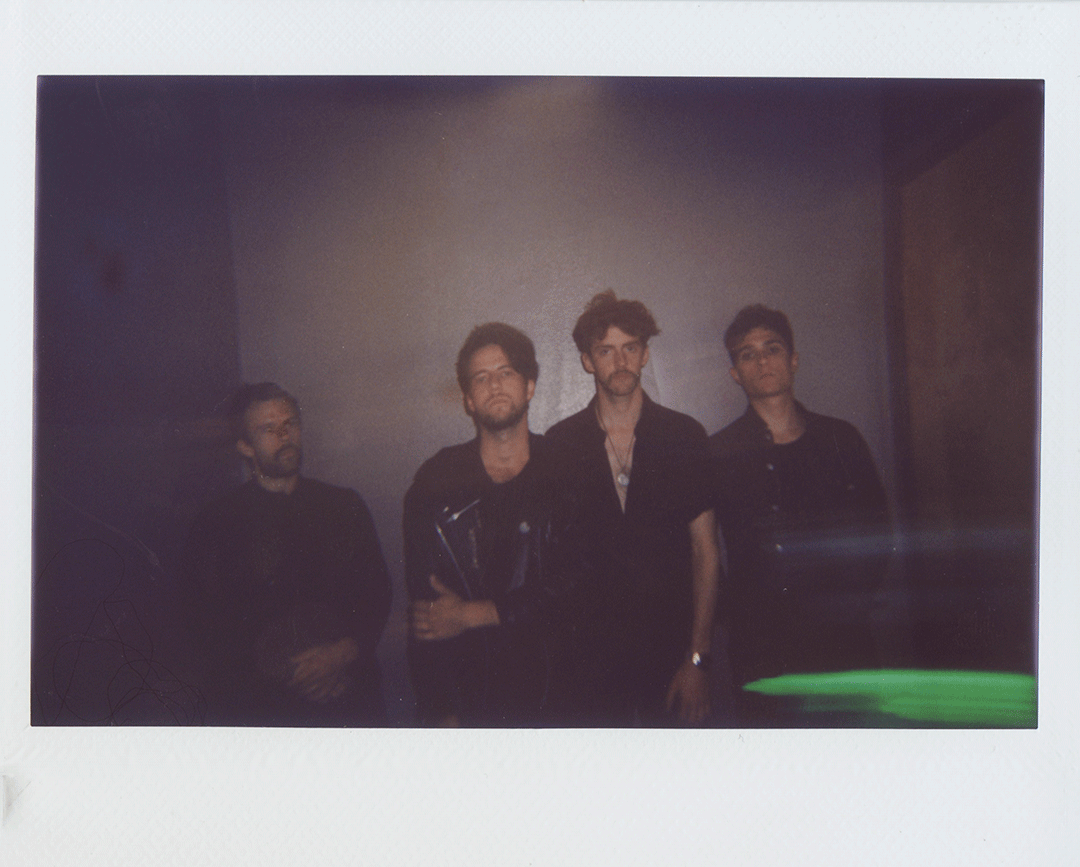 How fast were you moving? In the video it looks like you're barely moving.
Nick –  The video was slowed down, I think it was slowed down 20 times slower than real time. Yeah, each clip was probably like maybe 4 seconds or something like that, max.
Alexander – Because we tried to move quickly… It was really fun to do, one of my favorite things we've ever done. Nick – Yeah, Jake now has a phobia of …
Jacob – Oh, I'll never do a GoPro video again. Fucking hated it.
What camera equipment have you used in the other videos you've shot?
Nick – We use a GoPro, an iPhone and like a Samsung handy cam from like 15 years ago, so nothing high tech. You know, I think we feel at the end of the day it's a lot more about the concept than the production value; some of the coolest music videos you see it just revolves around a sick concept.
More photos from their October 14 show at The Observatory in Santa Ana below;